Welcome to the home of PCItree
PCItree is a graphical Windows tool to look at all the hardware devices of the PCIbus. The devices are displayed in a tree like view. Information about the devices and its vendors is obtained from a seperate database. PCItree gives you read and write access to the config registers of each device and even to each device's memory given by the BAR.
This tool helps you to figure out problems with your PC, or lets you debug your custom PCI chip.

Features: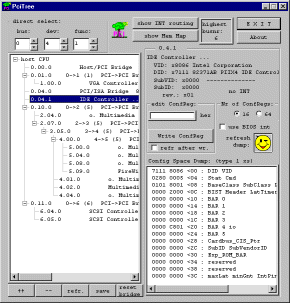 Display PCIbus devices as tree
PCcards are recognized
uses the file pcidevs.txt to get descriptions for DID and VID
read Config Space of device
edit Config Register
read io/memory space of BAR
edit content of BAR space
show routing of INTs
show allocation of PCI memory space
test the memory of a device
Win95/98/ME, WinNT4 and Windows 2000 / XP / Vista / 7 (32bit only)
shareware ( please register )
Contact:

---
Design by
Webdesign-Reusch